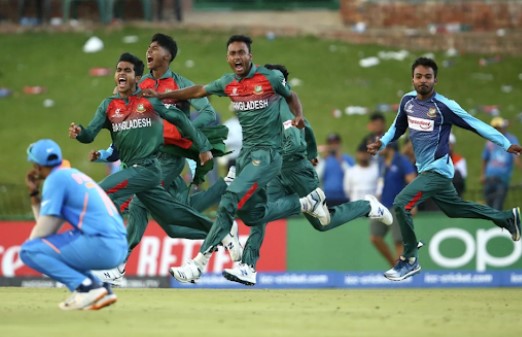 JEETBUZZ365 BET – Bangladesh vs. India Historic ICC U19 CWC Final Match Highlights
The final of the ICC U19 Cricket World Cup between Bangladesh and India in 2020 proved to be an exhilarating spectacle, filled with drama, fine cricketing moments, and unpredictable twists. While India posted a modest total of 177 runs, Yashasvi Jaiswal's impressive 88 gave them a fighting chance. However, Bangladesh's chase was far from smooth, with both teams experiencing dramatic collapses. The climax, marked by DLS calculations, rain interruptions, dropped catches, and gritty performances, concluded with Bangladesh lifting their first-ever ICC title at any level.
The match began with Yashasvi Jaiswal's authoritative innings, which showcased his remarkable talent. His 88 runs off 121 balls laid the foundation for India's total. Nevertheless, his dismissal triggered a stunning collapse as India lost seven wickets for just 21 runs in 7.4 overs, leaving them well short of their intended target.
In response, Bangladesh had their share of struggles, with the scoreboard showing six wickets down for just 52 runs at one point. It seemed as though both teams were passing the trophy to each other. However, Bangladesh's captain, Akbar Ali, emerged as the hero of the day, steering his team to a nervy victory in a match filled with drama due to unpredictable weather.
The match was not short on drama, as dropped catches, fielding fumbles, overthrows, over-the-top appeals, and even some verbal exchanges added to the excitement. Rain made an untimely appearance, further complicating matters, and the teams were forced to rely on the DLS method for a revised target.
After the weather cleared, Bangladesh needed seven runs off 30 balls with only three wickets in hand. Akbar Ali and No.9 batsman Rakibul Hasan rose to the occasion, demonstrating remarkable composure under immense pressure. Hasan played a crucial role in Bangladesh's victory, striking the winning runs with a majestic shot over midwicket. The celebrations that followed were as dramatic as the game itself.

Parvez Hossain Emon's heroic return from injury, reminiscent of Tamim Iqbal's performance in the 2018 Asia Cup, was instrumental in bringing Bangladesh within reach of their target. Emon's courageous 47 off 79 balls, despite his injury, showcased his determination. Meanwhile, Yashasvi Jaiswal's steady composure after a shaky start was evident as he scored 88 runs, underlining his potential as a future star.
The bowlers played a pivotal role in both teams' performances. Shoriful Islam led Bangladesh's pace attack, causing trouble for the Indian batsmen with his exceptional spells. He was also outstanding in the field and contributed with his bowling. Tanzim Hasan Sakib and Avishek Das also bowled brilliantly, putting India's batting lineup under relentless pressure.
The 2020 ICC U19 CWC final between Bangladesh and India will be remembered as one of the most thrilling matches in the tournament's history. It featured exceptional performances, dramatic collapses, and the emergence of young talents. Bangladesh's victory marked a historic moment for the team, as they clinched their first-ever ICC title at any level. The match's fluctuating fortunes and the influence of various players ensured it will remain etched in the memories of cricket fans worldwide. For more highlights and news like this, visit Jeetbuzz news portal.