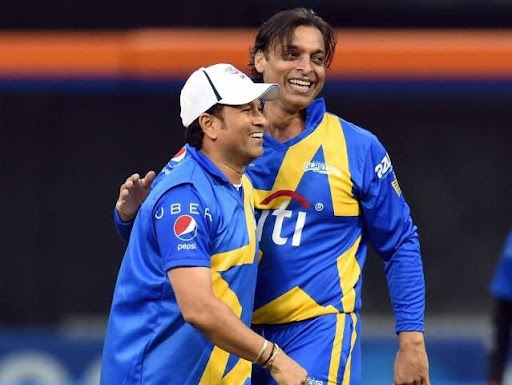 Shoaib Akhtar did not know Sachin?
Shoaib Akhtar did not know Sachin?
The Sachin-Shoaib rivalry is one of the main points of attraction for cricket lovers in world cricket. But the Pakistani pace star Shoaib Akhtar did not know that Sachin!
Shoaib Akhtar made an explosive comment before the Asia Cup. The claim of this former Pakistani pacer is that he did not know Indian legend Sachin Tendulkar. Shoaib claimed that he did not know anything about Sachin before going to the field for the first time against India.
However, what Sachin is in the world of cricket was explained very well to Shoaib by Saqlain Mostak, Shoaib's teammate in the Pakistan team at that time. Shoaib said, "Saqlain told me about Sachin. He told about Sachin's impact on the Cricket world. I didn't know anything about him."
Sachin had completed 10 years in international cricket at the time of Shoaib's first game. Even so, when explaining the reason for not knowing Sachin, Shoaib said that at the beginning of his cricket career, he did not think about the opponent's cricketers. He only thought about his bowling and taking wickets.
Shoaib also said, "I always lived in my own world. I used to think about what the batsmen think about me and what I have to do. I wanted to bowl at speed. After the reverse swing comes the thinking changes. At the end of the innings when I came to bowl, I wanted to suffer the batsmen. The aim was always to take five wickets. Because, if you can't win the match, you can't be a star. I always wanted the team to win."
However, Saqlain changed the attitude of Shoaib who did not know Sachin at the beginning. The former Pakistani spinner informed his new teammate about Sachin before the start of the match. However, Shoaib said that he respects the Indian legend. Rawalpindi Express has even admitted that he has a good relationship with Sachin. However, after Shoaib's comment, Sachin did not comment anything yet. The cricket legend has not yet opened up regarding this issue.