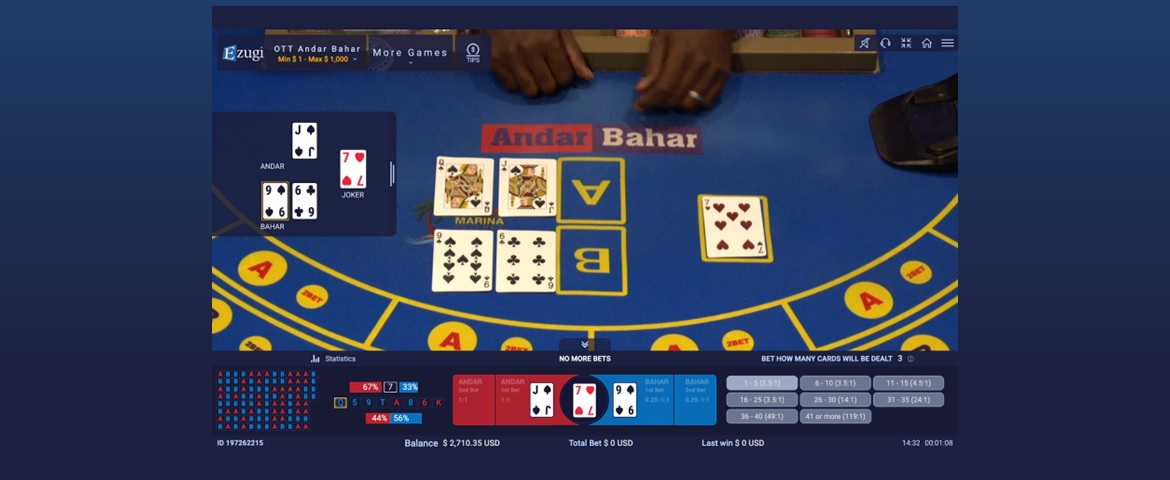 Strategy and Set of Instructions for Ezugi Live OTT Andar Bahar
Andar Bahar is a popular card game that originated in India and is now played online by many players around the world. Ezugi is one of the leading providers of live dealer games, and they have developed a unique version of Andar Bahar called OTT (over-the-table) Andar Bahar. This game is streamed live from a land-based casino in India, where a real dealer deals the cards on a physical table. The players can interact with the dealer and other players through a chat feature and place their bets on a virtual interface.
Rules of OTT Andar Bahar
The game is played with a standard 52-card deck, which is shuffled before each round. The dealer cuts the deck and reveals one card, which is placed face-up in the middle of the table. This card is called the Joker card, and it determines the outcome of the game.
The players have to bet on which side of the table (Andar or Bahar) will receive a card that matches the value of the Joker card. Andar means inside, and Bahar means outside. The dealer then starts dealing cards alternately to each side of the table, starting with Andar. The cards are dealt face-up, so the players can see them.
The round ends when a card that matches the value of the Joker card is dealt to either side. The players who bet on that side win, and the players who bet on the other side lose. The payout ratio is 1:1 for both sides, except for when the first card after the Joker card is dealt to Andar. In that case, the payout ratio for Andar is 0.9:1, and for Bahar it is 1:1.
The game also offers some side bets that can increase your winnings. These are:
Number of cards: You can bet on how many cards will be dealt before a matching card appears. You can choose from 1-5, 6-10, 11-15, or 16+ cards.
First card: You can bet on which suit or color will be the first card dealt after the Joker card.
Joker card: You can bet on which suit or color will be the Joker card.
Strategy and tips for OTT Andar Bahar
OTT Andar Bahar is a game of chance, but there are some ways to improve your odds and make smarter decisions. Here are some of them:
Observe the trends: Before placing your bets, you can observe the previous rounds and see if there is any pattern or trend in the outcomes. For example, if you notice that Andar has won more often than Bahar in the last few rounds, you might want to bet on Andar in the next round.
Manage your bankroll: You should always set a budget for your gaming session and stick to it. You should also decide how much you want to bet per round and adjust it according to your wins and losses. You should never chase your losses or bet more than you can afford to lose.
Use side bets wisely: Side bets can add some excitement and variety to your game, but they also have higher risks and lower payouts than the main bets. You should only use them occasionally and in small amounts, and not rely on them as your main source of income.
We hope you have enjoyed this blog post and learned something new about Ezugi Live OTT Andar Bahar. Good luck and have fun!