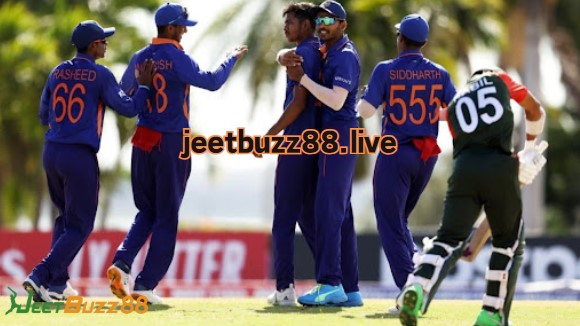 Bangladesh vs. India Under-19 Prediction, Playing XI, Stats – 5th Match, Group A
When it comes to the thrilling world of cricket, the clash between the Under-19 teams of Bangladesh and India is always a spectacle to behold. In this article, we delve into the head-to-head history of these two teams, analyzing their recent encounters, standout performances, and key players. Buckle up as we explore the excitement and anticipation surrounding the 5th Match in Group A between Bangladesh and India Under-19 teams.
Head-To-Head Analysis
Over the years, India has established its dominance over the Bangladesh Under-19 team in various encounters. In the last five matches, India U19 emerged victorious in four of them, showcasing their cricketing prowess. Their wins on January 29, 2022, and December 30, 2021, with significant margins of 5 wickets and 103 runs, respectively, underline their strength and consistency.
While India U19 has had the upper hand in recent matches, it's crucial not to underestimate the Bangladesh U19 team. On February 09, 2020, they secured a victory over India U19, albeit with the Duckworth-Lewis method, winning by 3 wickets. This win demonstrated Bangladesh's ability to adapt to challenging conditions and seize opportunities.
Bangladesh U-19 Expected XI
Adil Bin Siddik
Chowdhur Md Rizwan
Rizan Hossan
Ariful Islam
Nayeem Ahmed
Mohammad Shihab James
Ashiqur Rahman Shibli (WC)
Mahfuzur Rahman Rabby (c)
Md Rafi Uzzaman Rafi
Wasi Siddiquee
Rohanat Doullah Borson
Bangladesh's young brigade comes into this match with high expectations. Led by Mahfuzur Rahman Rabby, this team boasts a good mix of batting and bowling talent. Adil Bin Siddik and Chowdhur Md Rizwan are expected to open the innings and set the tone. Rizan Hossan, Ariful Islam, and Nayeem Ahmed provide depth to the batting order. The all-round abilities of Ashiqur Rahman Shibli and the leadership of Rabby will be crucial in guiding the team.
On the bowling front, the likes of Rafi Uzzaman Rafi and Rohanat Doullah Borson will aim to take early wickets. With a well-rounded team, Bangladesh is set to give India a tough challenge.
India U-19 Expected XI
Angkrish Raghuvanshi
Harnoor Singh
Shaik Rasheed
c Rew b Sales
Yash Dhull (c)
Nishant Sindhu
Raj Bawa
Kaushal Tambe
Dinesh Bana (WC)
Vicky Ostwal
Rajvardhan Hangargekar
Ravi Kumar
The Indian U-19 team, led by Yash Dhull, is always considered a formidable side in youth cricket. The opening duo of Angkrish Raghuvanshi and Harnoor Singh is expected to provide a solid start, while the middle order features talented batsmen like Shaik Rasheed, Nishant Sindhu, and Raj Bawa. The captain, Yash Dhull, will be the anchor in the batting lineup.
In the bowling department, India has a balanced attack led by Kaushal Tambe and Rajvardhan Hangargekar. Dinesh Bana, who is also the designated wicket-keeper, will be crucial in both aspects of the game. The team boasts a strong bench, with players like Vicky Ostwal and Ravi Kumar ready to make an impact when called upon.
Key Battles to Watch
Opening Showdown: Adil Bin Siddik and Chowdhur Md Rizwan vs. Angkrish Raghuvanshi and Harnoor Singh – The battle at the top of the order could set the tone for the entire match.
Captaincy Duel: Mahfuzur Rahman Rabby vs. Yash Dhull – The leadership skills of both captains will be tested under pressure.
Spin vs. Pace: Bangladesh's spinners vs. India's pace attack – The pitch conditions in Colombo could influence this intriguing battle.